Introduction: In this series of articles I'm going to take a look at the illustrious careers of all of the members of the Hall of Fame. I am calculating both their career player efficiency rating (PER) and their career box-score plus/minus (BPM). Both of these statistics have their positives and negatives, therefore I am combining the two together for these rankings. I took both statistics and found the z-score for each player for each respected statistic. The z-score is good to compare two sets of numbers because they have different scales. The z-score for those of you that don't know is the number of standard deviations something is from the mean. Combining both z-scores for these numbers put's everything on a fair scale. This new combined z-score is what I am using to rank the players. I'll start at the bottom and we'll work our way down to number one.
#30. Moses Brown (Pelicans) (17.6ppg, 11.1rpg, 0.9bpg)
PER: 19.99
BPM: 3.14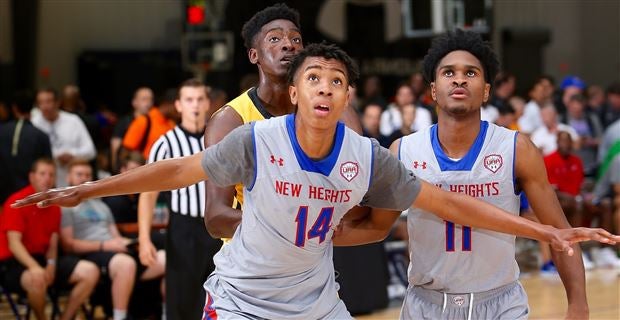 It's wild to think that a big as great as Moses Brown fell all the way to eighth in the NBA draft. He wasn't a guy who needed a lot of time to develop either, by his second season in the league he was already an All-Star. What separated Brown from other big men was his ability to score. At his best, the 2029-30 NBA season, he averaged 27.6 points per game and 13.1 rebounds per game with the Chicago Bulls. He was such a unique weapon, as many big men in the league were primarily used for defense and rebounding, that he never found a team that figured out how to win a championship with him. He got close a couple times losing in the finals in 2023 with the Pelicans and later 2033 with the Hawks, but teams just couldn't figure out how to win with an inside focused offense. He was great at what he did though and is a well deserving member of the Hall of Fame.
#29. De'Aaron Fox (Rockets) (16.1ppg, 9.7apg, 2.2spg)
PER: 19.12
BPM: 4.11
Being the third point guard picked in the 2017 NBA Draft must have given De'Aaron Fox a chip on his shoulder because he worked hard and slowly turned into one of the best point guards this league has ever seen. He was with the Rockets for nine seasons, winning his one and only championship with the team in 2020. He was a master ball handler and was great at getting other people involved. He was a pass-first point guard who could also score if need be, but he wasn't putting up gaudy scoring numbers. Combining that with his quick hands that got him a lot of steals, he was a nightmare for opposing teams on both ends of the floor. He was a dream player for any team. 
#28. Quinndary Weatherspoon (Trail Blazers) (21ppg, 6rpg, 1.6spg)
PER: 18.78
BPM: 4.55
One of the biggest steals of all-time was the Timberwolves selecting Quinndary Weatherspoon 21st overall in the 2019 NBA Draft, but even they didn't know the player they were getting as they only held onto him for one season and then shipped him off to Milwaukee. A trade that would later prove lopsided in favor of Milwaukee. He began to develop in Milwaukee but once again was traded for what some consider pennies on the dollar, this time to Portland where he would blossom into a star. There weren't any holes in his game but he especially turned into one of the best three point shooters in the game. He never was able to get a ring and only played fourteen seasons, leaving the game as a productive player still after the 2032 season.
#27. K.C. Ross-Miller (Pacers) (16.2ppg, 9apg, 1.9spg)
PER: 20.04
BPM: 3.62
K.C. Ross-Miller was another steal in the draft, going 16th in the 2031 NBA Draft. He stuck around with the Pacers for eight seasons and ended up using everything in the tank while he was there because he was never the same player after he left. During those years he put up great numbers both offensively and defensively. He had a short prime but the blood, sweat and tears he gave during those years with the Pacers was what made him a Hall of Famer. His legend began in 2035 when he got Indiana to the finals only to be swept by the Grizzlies. He took the loss hard and the next season he came back with a vengence and once again took them back to the finals, this time winning and getting the finals MVP trophy along with it. He would get back the year after and get his second ring as well as his second finals MVP. There aren't many players who have been able to carry their teams to multiple championships like him.
#26. Frank Jackson (Lakers) (19.7ppg, 4.1rpg, 1.6spg)
PER: 19.22
BPM: 4.35
Sometimes the environment can really make a player and this might be the case with Frank Jackson. He was a good up and coming player through his first six seasons in the league but wasn't playing at a Hall of Fame level by any means. He was a very good scorer and didn't do much more then that. When he moved to the Lakers though everything changed. He became a focal point in their offense and took his game further than anyone thought he could. He was a key piece during the Lakers four-peat and was an offensive juggernaut for ten seasons with the Lakers. Had he not been put in such an opportune situation, he may not have even made the Hall of Fame.
#25. Chris Mullin (76ers) (18.2ppg, 5rpg, 1.6spg)
PER: 19.65
BPM: 4.27
There was so much buzz around the 2021 Draft with three huge names coming out of college, Olajuwon, Barkley and Mullin. All three would go on to be Hall of Famers but they all had very different careers. Chris Mullin was one of the fastest offensive bloomers this league has seen, quickly developing into nearly a twenty point a game scorer by his second season. Fast forward to 2029 and he was the second best scorer in the entire league. He spent two huge chunks of his portion with two teams, eight seasons with the Mavericks and then nine with the 76ers. He got his one and only ring late in his career in 2034 where he saved his best for the post-season where he averaged 28.7ppg during the championship run. He went down as one of the greatest shooters of all-time.
#24. Jusuf Nurkic (Nets) (18.2ppg, 11.2rpg, 2.5bpg)
PER: 19.83
BPM: 4.28
The one player in the Hall of Fame that is wearing a Brooklyn Nets jersey is none other than Jusuf Nurkic. It's easy to forget about a guy like Nurkic because he didn't play with any one team for more than five seasons and he played for six different teams throughout his career. He was a monster in all facets of the game though, collected four Defensive Player of the Year trophies and he appeared in eight All-Star games. There are few players that have ever been able to score, rebound and defense at the highest level like Nurkic did. The most unfortunate part of his career though is that he never even made it to an NBA finals. He was a part of a lot of bad teams but he cashed a lot of big checks during his career so he's not losing any sleep over it.
#23. Blue Edwards (Nuggets) (21.2ppg, 5.7rpg, 1.6spg)
PER: 19.4
BPM: 5.08
The bright and shining star of the Denver Nuggets for five years was Blue Edwards. The Celtics selected him 21st in 2027 and shipped him off to Denver a year later for Luke Kennard. Who would've thought that the Celtics would be giving up a future Hall of Famer for Luke Kennard, but that's all revisionists history now. It took him a little while to develop but at his prime, Blue Edwards was as good of a scorer as they come. He was especially lethal from long-range. After Denver he bounced around to teams hoping to use him as the final piece of the puzzle in their championship runs but nothing ever came to fruition and the closest he got was losing in the finals with the Lakers in 2037. An underrated aspect of his game was his ability to rebound. He played on the wing but he had a couple seasons where he pulled down over seven boards a game. He was a special player, especially on the offensive end. 
#22. Charles Barkley (Jazz) (18.5ppg, 10rpg, 1.5spg)
PER: 21.02
BPM: 4.27
It's kind of poetic that Charles Barkley went his entire 21 year NBA career without winning a ring. He put up crazy numbers year in and year out but the closest he got was getting swept in the finals with the Raptors in 2031, but that was Eric Hayes' team more than anyone else. The defensive end was always a struggle for Charles which doesn't really show up on the box score that much, at least not for his own personal numbers. He put up great offensive numbers, rebounding numbers and was even a pretty gifted passer for his size. In fact the only front court player to have more career assists than him was Hakeem Olajuwon. It would've taken a really perfect situation for him to have gotten a ring and being with Utah for so long just didn't give him any great chances at a ring. He might be the best stat sheet stuffer of all time though.
#21. Sidney Moncrief (Pacers) (19.7ppg, 5.3apg, 1.2spg)
PER: 21.92
BPM: 4.07
Like Barkley, Sidney Moncrief had a really long career as well, playing 19 seasons. He on the other hand, was able to get some bling during his time in the NBA. One ring coming with his Hall of Fame team, the Indiana Pacers, in 2026 and the other coming with the Lakers in 2032. Moncrief actually came out of college as a shooting guard but the Pacers quickly made him into a point guard, developing his game there over the years and turning him into a great one. He was a good not great passer and a great scorer, but what made him really interesting was his ability to rebound at point guard. He scored nearly 20 points a game for 14 of his 19 NBA seasons, he really started to fall off in 2038 though and he hung around the league as a bench player up until 2041 when he decided to hang it up. He's one of the great point guards we've had in this league for sure though and his transition from shooting guard to point guard gave him a skill set unique to most other point guards in the league.